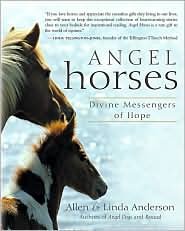 Oh, look, another holiday is coming up. Time for another horse book giveaway!
This time the book will be
Angel Horses
by Allen and Linda Anderson. You can read a review of
Angel Horses
on my book review blog, Livre du Jour. If you want to be entered into the book drawing, you must email me with your name by midnight mountain time on Saturday, May 9. I will choose and announce the winner on Sunday, May 10 — Mother's Day!
When I announce the winner, I'll be happy to include a link to your blog (if you have one), so be sure to also give me your blog URL when you email me!
The winner will be chosen in the same way as always —
email me
and I will add your name to the list. On the drawing day, I'll put each name onto a piece of paper, fold all the pieces of paper, mix them up, and draw one out of a hat.
If you have a blog, please spread the word about my little horse book giveaway. The more the merrier!
Labels: holidays