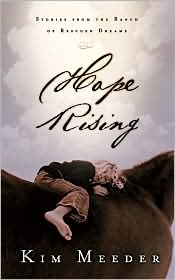 I recently read
Hope Rising
by Kim Meeder. There are some really wonderful inspirational stories in its pages about horses saving children and children saving horses, but unfortunately there was a heavy religious theme that made me a bit uncomfortable and kept me from fully enjoying the rescue stories.
Although religion is not my cup of tea, I know many of my readers would appreciate this book more than I could. So just like I did a few months ago when I did my
holiday book giveaway
, I'm going to do a drawing to find this book a new home. All participants must
contact me
by 11:59 pm mountain time on Saturday, February 14, and winners will be announced on Sunday, February 15.
I'll do the drawing the same way I did last time, by writing everyone's names on a slip of paper, folding them up, and then drawing a name out of a hat. The book, by the way, is just like new — as the winners of my previous drawings know, I take very good care of my books!
Good luck and happy Valentine's Day!
Labels: horse book reviews