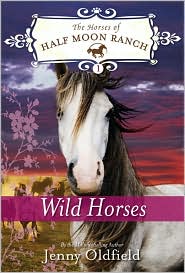 Just a couple of days ago, I blogged on my
book review blog
about the first two books in a new horse series for young girls:
The Horses of Half Moon Ranch
, by Jenny Oldfield. However, they also deserve a mention here.
For one thing, these books take place at a fictional dude ranch here in Colorado — and I have to say that judging by these two books, I think Oldfield did a good job of capturing the essence of my beloved home state. She did a good job of capturing some other things, too, as you'll see.
As I mention on my other blog,
Wild Horses
was a good action-packed first book, but it was
Rodeo Rocky
that actually won me over. In the second book, the main character, Kirstie, attends her first rodeo — and is horrified at the way the animals are treated. I was pleasantly surprised that the book addressed this issue, rather than glossing over it in an attempt to make it more "age appropriate" (read: less controversial).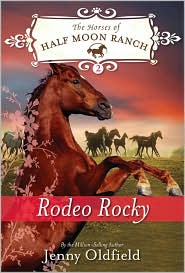 After Kirstie falls in love with a mustang who was mistreated in the wild horse races, she and her mom buy the horse and take it back to their place, with the intention of training it to be used on their dude ranch. This is another part where the book impressed me: I thought it did a very good job of accurately describing a more natural approach to horse training, and it demonstrated the importance of teaching horses to trust their handlers instead of fear them. And of course, I am a sucker for any story of someone rescuing a horse, since I rescued my own horse from
appalling circumstances
.
Reading these books, which are meant for middle-grade girls (i.e. ages 9-12), reminded me a lot of the classic horse books I used to read as a little girl:
The Black Stallion
,
Black Beauty
, and
Stormy, Misty's Foal
. It also reminded me a lot of
My Friend Flicka
, which I read for the first time only a few months ago. I think this is the beginning of a great series for tween girls, not only because it appeals to their horse-crazy nature, but also because of its realism and the way it introduces issues for young girls to consider, such as how animals should be treated.
Labels: horse book reviews